When:
August 12, 2021 @ 10:00 pm
2021-08-12T22:00:00+02:00
2021-08-12T22:15:00+02:00
Where:
Placa de la Pelota, Carrer Sant Francesc, Orba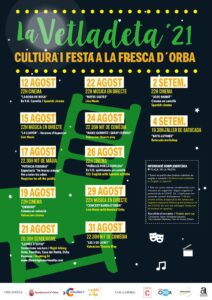 This year, to be able to access the performances of La Vetladeta, you will have to have a ticket.
From tomorrow, Wednesday August 11, during business hours in the morning, tickets can be collected in person at:
– Details
– Pastor's butcher shop
– Salvador Verdulery
– Forn de Pa Salvador Martínez
– Forn de Pa Vicens
Tickets are free and you can collect 5 tickets per person per performance. In case there are no tickets left, the official channels will be reported on the day of the activity and they can be collected 30 minutes before the action.