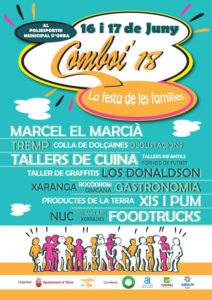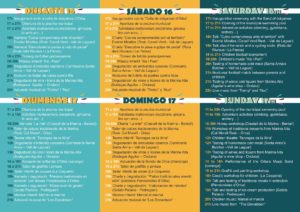 A family fiesta, takes place at the sports ground near the piscina in Orba. There will be a gastronomic fair, music and activities for the whole family. In addition to talks by local chefs about the food of the area, there will be tasting of homemade sausages, wines and spirits from the Marina Alta, and all accompanied by the musical performances on Saturday for the little ones of Xis and Pum at 7:30 p.m. and Tremp and Nuc at 10 p.m. . At the same time, a soccer tournament has been organized for juniors.   In the afternoon there is a graffiti and painting workshop, a children's workshop making coques  and for adults a presentation and tasting of traditional foods. This will be followed by a talk given by Helados Palacio, who a few months ago won the prize for Best Ice Cream Master of Spain.
Sunday starts with a talk at 10:30 am on honey. At 11:00, restaurant Cal Morell will hold a workshop of traditional sweets from the Marina. The day will continue at 12:00 with children's theater and, for the older ones, a tasting of homemade sausages, wines and liqueurs from the Marina Alta and live music from the Band of Orba .
During the two days, foodtrucks, stands of town hall, professionals, producers and artisans representing the gastronomy of the region will be installed at the fair plus a wide variety of workshops for all members of the family and multi-adventure activities (climbing wall, gymkhana, archery etc)
To close this weekend the performances of Marcel the Martian and The Donaldsons will be offered.